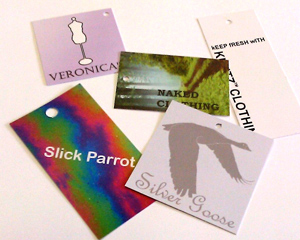 Swing Tickets
Commonly referred to as swing tags, hang tags, or swing tickets, these cardboard tags are a vital element of your garment branding. They are often the first item of identification, and we endeavour to supply the best tags for your intended purpose.
Woven Labels UK are the first choice for professionally finished Swing Tickets.
We understand that you probably don't need to buy thousands the first time around, which is why we've set out to offer a minimum of just 1000 swing tickets, with the following options:
Ticket size to your exact measurements
Range of Finishes: 350gsm Matt, 350gsm Gloss, 325gsm Recycled cardboard
Laminated Matt and Gloss also available
Print can be in full colour, 1 or 2 sides
Hole drilling as standard
Tickets can be supplied cornered
PDF approval – No Sample (material samples available on request)
Typical Lead time – 7-10 Working days from approval
We recommend that you receive a sample pack to choose your preference of cardboard – please get in touch for this.
The prices start from as little as £210.00 - £250.00 + VAT for 1000 tickets (depending on specification) and gets lower the more you order.
What we need from you
For a quote:
The size of the tag, cardboard choice (if unsure please ask for samples), printing requirements (single or double sided), any other information (e.g., hole drilling & cornering).
For an order:
All of the above accompanied with a high resolution PDF design to scale with a 3mm bleed. We don't offer artwork services for swing tickets, with the exception of very simple designs.
For a quote or more information please email sales@wovenlabelsuk.com or call us on 0333 222 6619.